Distinguished Service Award
This award was established in August 2007 to recognize individuals who have displayed heroism and/or investigative excellence, who are not local and state law enforcement personnel, but who have a nexus to the USSS.
For a list of Distinguished Service Awards presented click here.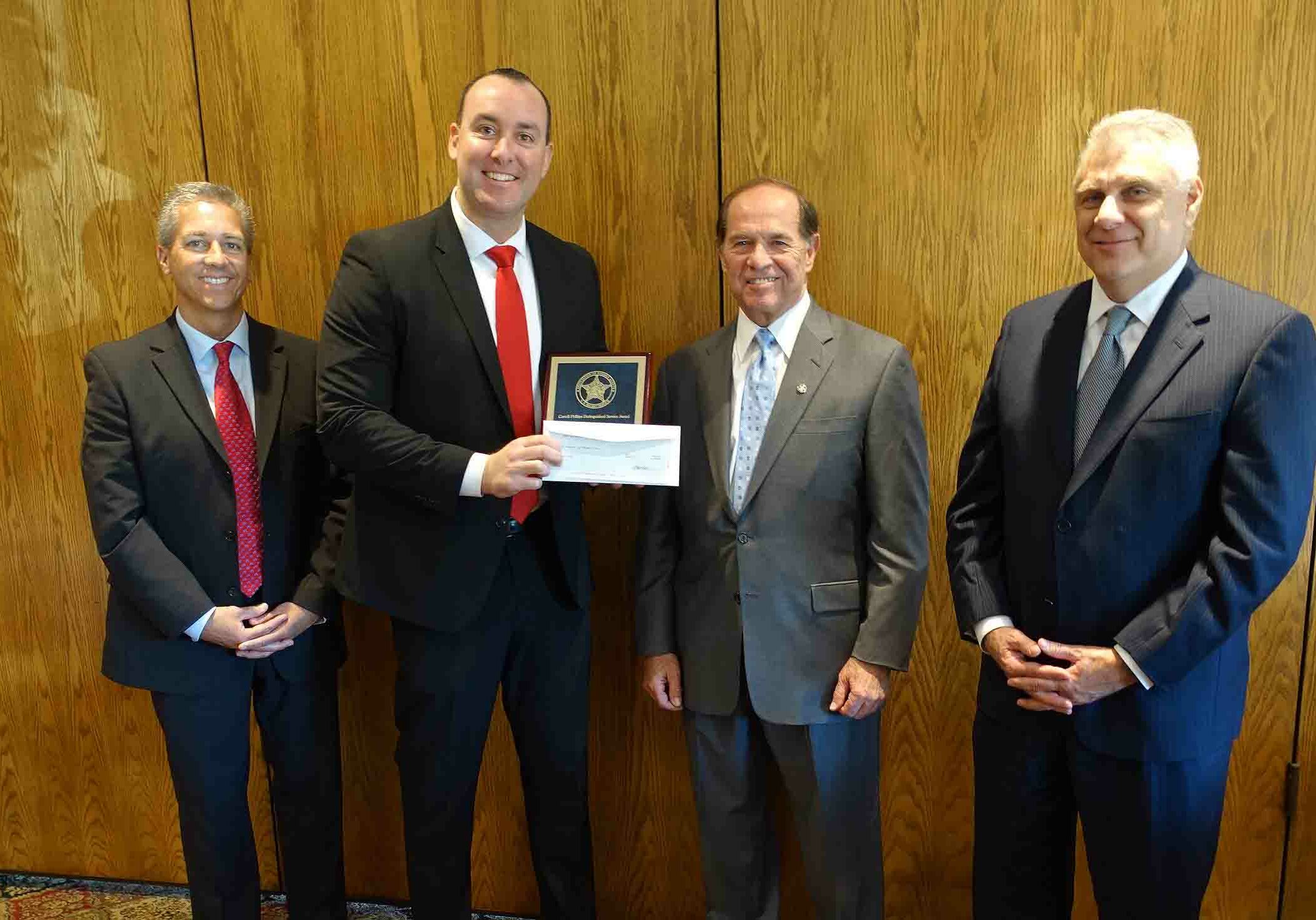 USSSA Distinguished Service Award Special Agent Peter Brown Miami Field Office
On December 11, 2018, I attended the South Florida Luncheon hosted by Earl Moore. This group meets for lunch several times each year and this meeting was special because it included the presentation of the AFAUSSS Distinguished Service Award (DSA) to SA Peter Brown of the Miami Field Office. The DSA was established by USSSA in 2007 to recognize individuals who have displayed heroism and/or investigative excellence. The award includes a plaque and a $1,000.
At the U.S. Secret Service awards ceremony earlier this year, SA Peter Brown was named Special Agent of the Year by the Service for his exceptional work leading a multi-state investigation of a large organized criminal enterprise operating in Florida and Colorado. This involved an ongoing scheme to traffic in stolen credit card account numbers and to manufacture counterfeit credit cards. In August 2018, SAIC Brian Swain, Miami Field Office, nominated SA Brown for the USSSA DSA which was approved by the USSSA Board of Directors.
As the lead case agent working with a multi-agency task force, SA Brown obtained authorization for non-consensual intercepts of email accounts used by the defendants, 25 pen register authorizations, nine GPS tracker warrants, six pole camera authorizations and 16 search warrants. As a result of this two-year investigation, 19 defendants were arrested and charged by federal and state authorities for conspiracy to commit access device fraud. Seizures included thousands of counterfeit credit cards, over 50,000 blank credit card stocks, electronic media containing thousands of stolen credit card account numbers, hundreds of gas pump skimmers, numerous credit card printers and embossers and approximately $95,000 in genuine U.S. currency.
Attending the luncheon and presentation were a number of USSSA members, the SAIC and other supervisors and agents from the Miami Field Office and the West Palm Beach RO. It was certainly my honor to present this well-deserved award to SA Brown.